ONOFF

Utility Wings Kuro 2024

Share on Social Media

(5/10/50/100 Points)
Refunds up to 30 days
Secure Payments
Customer Service 24/7
Introducing the ONOFF Utility Wings Kuro 2024 – where precision meets performance on the golf course.
Unleash Distance and Precision
Seamless Collaboration of Head & Shaft The Utility Wings Kuro 2024 by ONOFF envisions a golf club that mimics the grace and control of wings in flight. Crafted with expert precision, these clubs are tailored for optimal distance, ease of use, and trusted by professional golfers for their reliable performance.
Precise Center of Gravity for Accurate Shots
Elevated Control with Thoughtful Center of Gravity The Utility Wings Kuro 2024 boasts a carefully calculated center of gravity, providing golfers with an exceptional sense of control and the ability to hit with pinpoint accuracy. The U3 and U4 models feature angle grooves that amplify spin, while the U5 model is equipped with compliant grooves. Expect shots that stop exactly where you want them, even on challenging greens.
Versatility with Crescent Sole
Master Every Lie with Crescent Sole Inspired by the maneuverability of classic irons, the Crescent Sole design ensures a smooth transition across various terrains. This versatility ensures every lie is easily conquered, allowing for confident and accurate shots.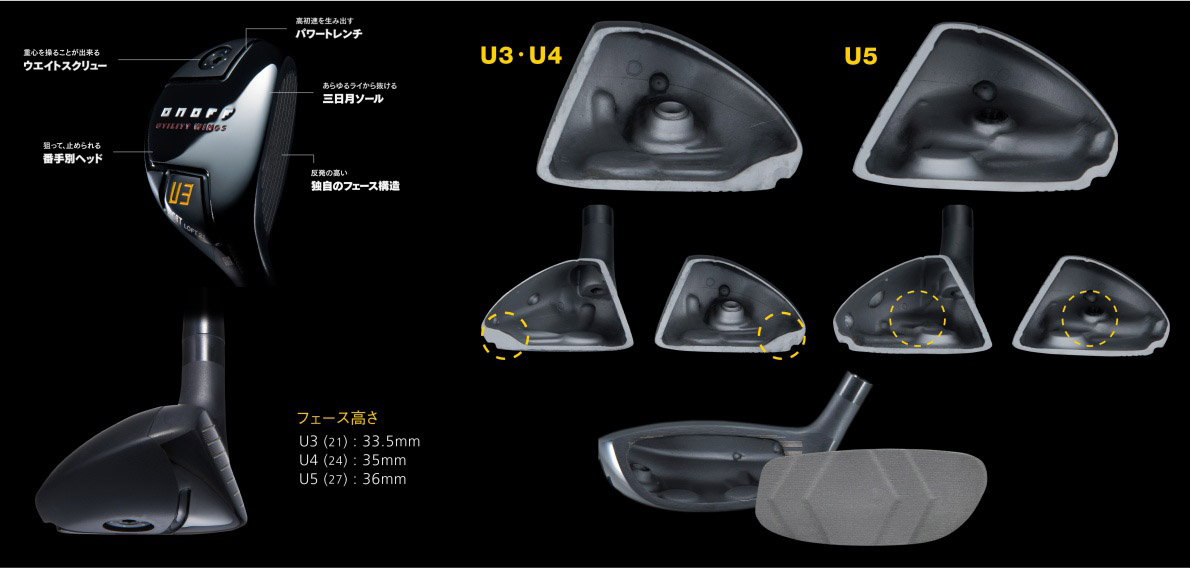 Harnessing "DAIWA's Carbon Technology"
Tailored Shaft for Effortless Performance Experience the harmony of the fairway with the middle-flex shaft, expertly crafted to complement the utility head. The result is a fluid, consistent swing that minimizes discrepancies, ensuring your shots hit the mark every time.
Customize Your Game
Optimal Center of Gravity for Enhanced Control The Utility Wings Kuro 2024 invites golfers to customize their experience. With adjustable head weights, golfers can fine-tune their swings to perfection, achieving maximum control and precision with every stroke.
Refine Your Trajectory with Weight Screw
Fine-tune your trajectory effortlessly using the weight screw. Whether seeking a straight shot or a fade, this tool empowers golfers to fine-tune their shots to match their preferences, enabling utmost control and accuracy.
Perfect Balance through Cross Balance Technology
Craft Your Ideal Swing with Cross Balance Technology Experience the ingenuity of Cross Balance Technology, allowing golfers to achieve their preferred swing balance. By adjusting head and grip weight screws, players can achieve their optimal balance and enjoy a tailored performance that suits their unique style.
The ONOFF Utility Wings Kuro 2024 – Elevate Your Game
Discover a new level of precision and performance with the ONOFF Utility Wings Kuro 2024. Enhance your golfing experience, enjoy increased distance and accuracy, and elevate your journey on the green to unparalleled heights.
ABOUT THIS PRODUCT LISTING
- PRE-ORDER ( OFFICIAL RELEASE DATE: September 9, 2023 )
- Labospec shaft is custom order ( 3-4 weeks to be shipped and cannot be canceled )
- Head material: High Maraging Plus Face + 17-4PH Stainless Steel Body
- Standard Weight Screw 6g = Tungsten Alloy
SPEC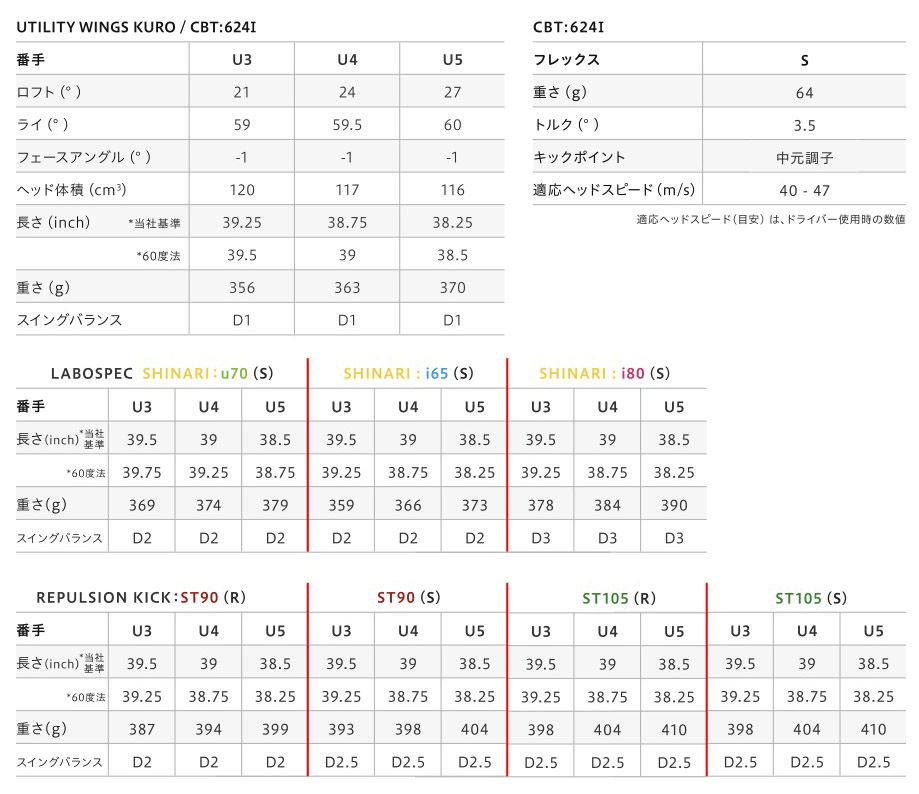 TSG
Clubworks
CUSTOMIZE YOUR PURCHASE WITH PROFESSIONAL INSTALLATION
Learn More
Shop by
Brand
BROWSE THROUGH OTHER BRANDS.
Shop now
Ask Us
a Question
ADVICE YOU CAN TRUST CONTACT OUR EXPERTS.
Contact Us