Share on Social Media

(5/10/50/100 Points)
Refunds up to 30 days
Secure Payments
Customer Service 24/7
Crazy's TJ-46 Noir is the underspec/softer more forgiving version of the Black 46. Its aimed more at the smooth swinger who wants to keep the ball out of the right side (though its also stable enough to prevent hooks) and hit straight to draw balls with premium distance. This 46t full length high modulus carbon shaft has great feel and kick and provides a mid to higher launch.
The TJ-46 Noir ranges from 58 to 63g and is low/mid kick.
---------------------------------------------------------------
Crazy is one of Japan's top aftermarket shaft makers specializing in high modulus carbon shafts.

Crazy believes in creating the best performing shafts only from the best carbon available in Japan.

Crazy uses 40t to 80t (depending on the model) full sheets of hand rolled carbon in all their shafts.

So how does carbon grading work? Shafts are created with carbon fibers weaved together, and these fibers are measured by their modulus of elasticity in tension. Typical golf shafts are around 24t or 30t, the measurement of tensile strength. These lower grade shafts are more flexible and because of this the shaft is slow to regain its original shape on the downswing creating inconsistent impact where a player must rely heavily on timing due to the flexibility of the shaft.

As the tensile strength increases, the carbon weaves are more dense, more rigid and return more quickly to their original shape. The flex and rebound of the shaft becomes more predictable equaling more consistent shots and much tighter dispersion. The higher tensile ratings ratings in golf shafts are also related to the higher grades containing more glass and metal particles which are more rigid and lower grades containing more flexible rubber particles. Part of the reason why Crazy shafts are so explosive are that, even though they use those tightly weaved, denser carbon weaves, they create shafts with very active and thinner sections which lead to very high action (but controlled) in the shaft.

Carbon shafts 40t and higher are considered high grade and different graded carbon performs differently in every model.

Crazy has broken their wood shaft offerings up into 3 major lines. These 3 new lines feature several models that all target the similar style player swing.

Three lines also allow Crazy to create more high grade carbon shafts for different swing profiles. The three new Series offered by Crazy are the "BLACK", "NERO" and "NOIR".

you can pretty much tell the carbon grade of each shaft by the model name, except for the Longest yard models which use 46t.

Crazy originally began as a company making shafts for long drive competitors (their company includes many former long drive participants) which included the fastest swingers and hardest hitters in Japan. Because of this the bulk of their product is still aimed at more aggressive hitters and made for crazy distance performance.

The "BLACK" and "NERO" both target hitters with slight differences in their designs. The "BLACK" is for the fastest and most aggressive swinger who does not want to worry about timing. Just swing away and the head will meet the ball with the same release every time giving max distance and control.

The "NERO" is more for the hitter who doesn't swing quite as fast as the "BLACK" series player but still aggressive and wants to feel the shaft more. Both the "BLACK" and 'NERO" line are great at eliminating the left side.

The "NOIR" line is made for the fast but smooth swinger looking for max distance and feel. The "NOIR" series plays the softest of the three lines and will be a good option for those looking for a straight or soft draw ball.

All Crazy shafts have always been known to spin very low and the new models are no exception.

It all comes down to finding the right model which matches your swing style and speed and give you the performance you want.

-------------------------------------------

Please note Crazy has done away with flexes. They now rate the kilogram flex rating.

Typically Crazy plays up to a flex stiffer than most other aftermarket shafts so it's good to to step down a flex or half if you are not overly aggressive or powerful.

To give an approximation on flex, and do keep in mind that this varies depending on the model as flex is only one way of describing a shafts hardness.

THESE ARE APPROXIMATES and also depend on your swing style!

4.6-5.0 - L - <75mph
5.1-5.4 - R3 - 75-85mph
5.5-5.9 - R2 - 80-90mph
6.0-6.4 - Regular - 85-95MPH
6.5-6.9 - Stiff/Regular - 95-105mph
7.0-7.4 - Stiff - 105-115mph
7.5-7.9 - Stiff/X-Stiff 110-120mph
8.0-8.4 - X-Stiff 115-125mph
8.5-8.9 - XX-Stiff 120-130mph
9.0- - XXX-Stiff 130+mph

We are always here to help you choose the right Crazy Shaft, please contact us if you need more help.
All Crazy wood shafts are 0.335" tip.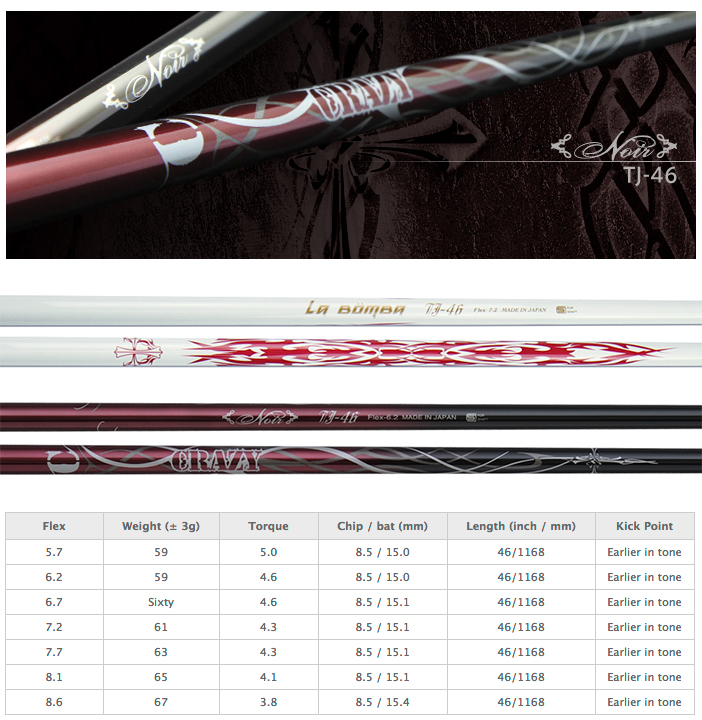 TSG
Clubworks
CUSTOMIZE YOUR PURCHASE WITH PROFESSIONAL INSTALLATION
Learn More
Shop by
Brand
BROWSE THROUGH OTHER BRANDS.
Shop now
Ask Us
a Question
ADVICE YOU CAN TRUST CONTACT OUR EXPERTS.
Contact Us