The Honma TW727 Iron Combo Set is available at TSG. The base price is 5-PW, so first choose your set make up and it will show your updated price. Then choose your custom shaft and specs. The specifications for each model is located in the "Specification" tab.
LOFT and LIE Angle: The maximum lie and loft angle change is 4 degrees, but Honma recommends no more than 2 degrees to not affect the head.
LENGTH: The maximum length change is 0.5 inches.
SHAFT OPTIONS: Only the Vizard Shaft is available as Graphite. Steel Shaft options are by Nippon Shafts, Dynamic Gold, and KBS.
FINISH OPTIONS: Satin, Half Mirror or Black Nickel Finish
The standard finish is different for the TW727P irons (Satin) compared to the TW727 Vn,V standard finish is Half mirror. So if you order a combo set of TW727P and a different model with Standard Finish, the finishes will be different unless you choose the Custom Finish.
---
** Please keep in mind that all TSG orders are made to order special for our customers at the Honma Japan Factory. So please expect 2-3 weeks for your order to ship. Also, ORDERS WITH CUSTOM SPEC OPTIONS CANNOT BE CANCELED once Honma starts production (such as Custom Lie, Length, Loft, Face Angle, and Custom Finish). Custom Head finishing take 4-6 weeks to ship.**
Please contact us if you have any questions about custom specs and options.
Honma TW727P Features:
- Of the TW727 Series this is the most forgiving model as it is slightly larger than the 727V with a lower center of gravity and under cut for more forgiveness.
- Its top line isn't thick at all and it still doesn't have much offset but what Honma has done is give it a slightly wider sole than the rest a touch more offset with stronger lofts.
- A lot of its forgiveness comes from its variable cavity design with the long irons having a deep wide cavity and as you go down to the 7 it narrows then to the 9 it's really just a slit then at the SW there is no undercut and it becomes a soft forged 1 piece head.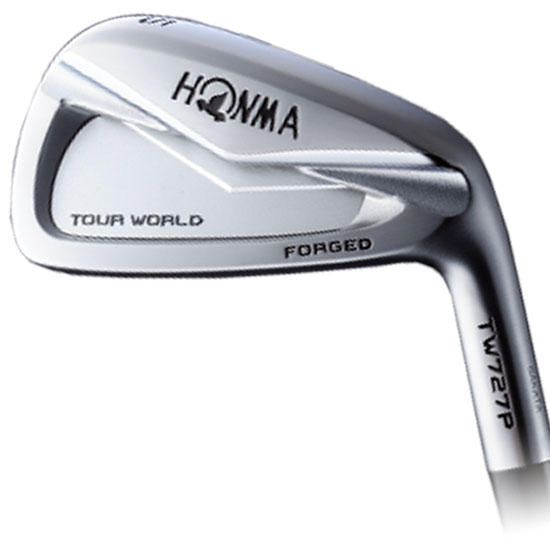 Honma TW727V Features:
- Very similar in shape to the TW717V they have improved this years version by making the cavity a little deeper and the CG lower as well as implementing W-Forged technology.
- The dimensions are just a fraction of a mm more beefy but in the end it's still a compact players CB and now easier to get up and easier to hit.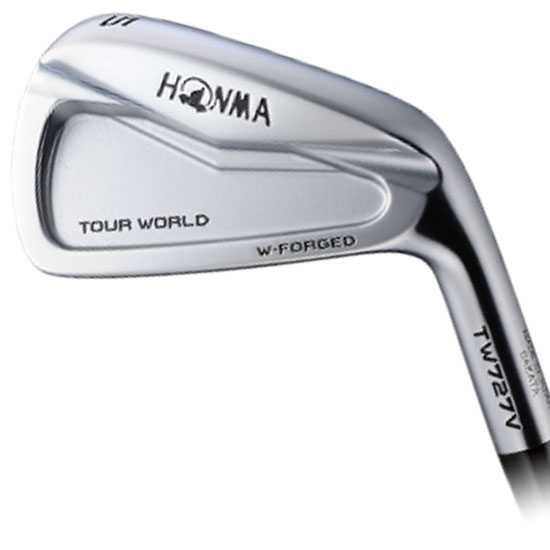 Honma TW727Vn Features:
- Designed for the player who wants an extremely compact cavity back with the same lofts as a blade.
- W-Forged tech which is a new Forging Process so what this entails is a two press process starting with a very hot pressing of the S25C then a cold forged press with new compression technology for improved granular grain flow what this does is make the final 0.2mm more dense and that is the face area.
Honma and their tour players are claiming the W-Forged irons to be the ultimate in feel and feedback.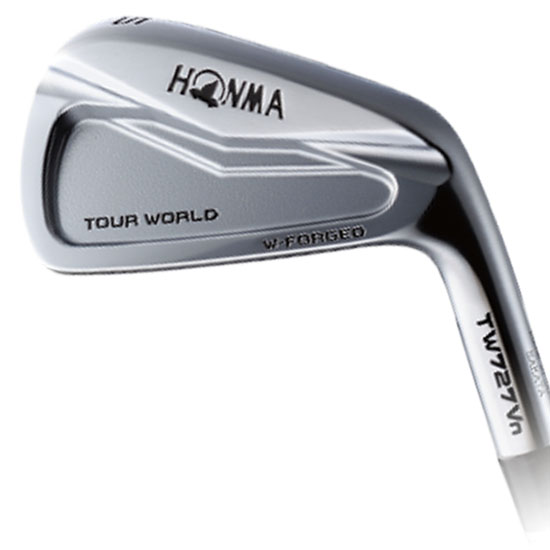 Honma TW BM Features:
Designed with specific input from JPGA Tour champion Hideo Tanihara for a more forgiving user-friendly blade design. While it looks very similar to the TW727 series muscle back's this one features a unique forged material process that Honma has labelled VPF or Variation Productive Force. This combination of a more user-friendly design and manufacturing also produces a softer more supple feel at impact.
TW727 Vn Specificaitons:
TW727P Specifications:
Honma TW727V Specifications:
TW727M Specifications:
Customer Reviews
Excellent clubs Review by

Orange ball

| | |
| --- | --- |
| Performance | |
| Design | |
| Overall | |
| Quality | |

Honma 727v s are really great clubs. Forging is awesome, with buttery feel on contact. They are also long, at least one and a half club longer than my old set. Great purchase. (Posted on 4/25/2016)