Honma 2014 Beres IE-03 is made for "Easy and Excellent " performance. It carries the widest sweet spot and the lowest CG out of Honma's line up of irons. It was created to provide the average golfer with maximum forgiveness and distance. The average player can freely swing with confidence and achieve the strong, high trajectory they have been looking for. It has a slight draw bias to help those who struggle with a slice.
Features and Technology
- SUS630 steel body with a thin ES230 Maraging face for great repulsion.
- Offset design to help reduce slice spin and promote a straight to slightly drawing flight.
- 10% larger hitting area than the previous model for added forgiveness.
- Larger and thinner face area has increased the rebound effect by 25%, leading to added distance.
- Two 9 gram weights placed near the back of the sole for lowered CG and deeper MOI, adding forgiveness and stability.
- Wider rounded sole to reduce friction upon impact for a smooth flow across any surface.
The IE-03 comes standard with an ARMRQ8 carbon shaft. It has a low kick point and an active tip section to help accelerate the club head through impact and provide easy high launch.
** Please keep in mind that ALL orders are made to order special for TSG customers at the Honma Japan Factory. So please expect 2-3 weeks for your order to ship. **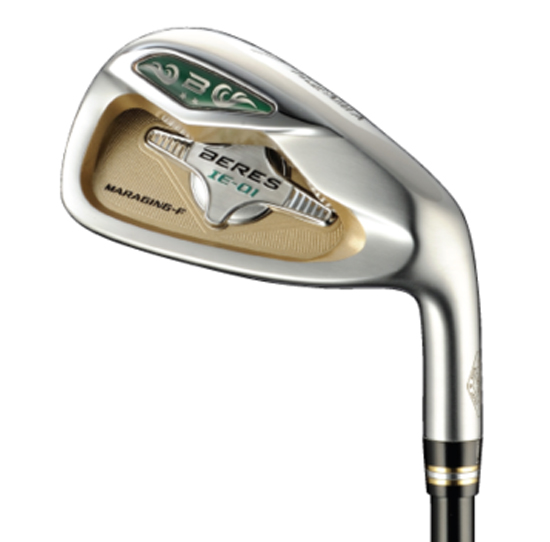 | Specifications | Loft | Lie | Length |
| --- | --- | --- | --- |
| #4 | 21* | 60.5* | 38.5" |
| #5 | 24* | 61* | 38" |
| #6 | 27* | 61.5* | 37.5" |
| #7 | 30* | 62* | 37" |
| #8 | 34* | 62.5* | 36.5" |
| #9 | 38* | 63* | 36" |
| #10 | 43* | 63* | 35.5" |
| #11 | 49* | 63* | 35" |
| SW | 56* | 63* | 35" |