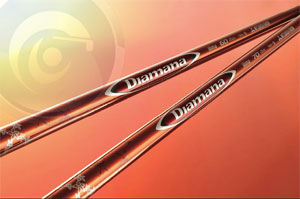 I posted a few weeks ago about the spotting of a new
Diamana Red prototype on the Japanese tour
. After speaking with Diamana Japan, they did in fact confirm that that prototype would be
going retail in October
. So the news is now official and we have
Mitsubishi Rayon's new Diamana 'ilima shaft
. As Mitsubishi said when the red proto was first spotted, the very successful first generation Diamana series was released with
Blue, Red and White Boards
in that specific order. Diamana then moved to a new method of manufacturing and design with the
Blue Kai'li
. So following that pattern a Red model is next in line.
This new generation
Red Diamana
, the 'ilima, follows a similar pattern with the original
M Series Redboard
. While it is not another Redboard it is a
mid kicking low spin driver
which provides a higher trajectory than the typical Diamana shaft. It's meant for those who want
control but need or want more carry
. As with the kai'li, Mitsubishi designed these new Diamana's with focus on not only the way the shaft bends but the
torsional rigidity of the shaft
. By focusing on how a shaft ovals and returns to original shape, Diamana creates performance oriented and tour proven shafts that
maximizes energy transfer at impact with minimal twisting
. Stability and balance are the keys to the new 'ilima which feature a more
rigid mid section and firm tip
which result in great control and lower spin.

The explosive performance of the new Diamana 'ilima is thanks to Mitsubishi Rayon's second generation manufacturing process and the use of
M.D.I. or Multi Dimensional Interlay Technology
. The layering of
cross axis carbon
with rings of additional carbon create minimal ovaling and
a shaft that returns to its original shape quickly for a controlled whip like performance
.
The new 'ilima is named after the
orange Hawaiian flower
which has
5 petals and a series of stamens in the center
. This flower was worn by Hawaiian goddesses in ancient myths providing protection. It is still a popular flower today in Hawaii and you can see the the
ilima on the new Diamana 'ilima's flowerband design
.
The new Diamana 'ilima will be available in
60, 70 and 80
models featuring lower torque and a 50% balance point with mid kick.
Pre order for the new 'ilima begins later this wee in the TSG Pro Shop!